Mylinda Eastridge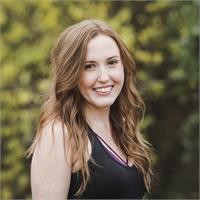 Mylinda discovered her love of yoga after graduating college. She tried hot yoga for the first time in 2012 and loved the way it made her feel emotionally and physically. She decided she wanted to be an instructor and received her 200hr RYT with Katie Silcox; an internationally known yoga teacher. She completed her training at Real Hot Yoga in 2017 for her 300hr RYT and is now registered as a E200hr RYT and also 500hr RYT. Mylinda is also a certified Barre instructor and enjoys teaching both a challenging and creative power yoga flow and booty kicking barre class. She has a real love of music which you will experience in her classes and loves her students. Whatever class you choose of Mylinda's you will be sure to sweat and have fun!
Mylinda Eastridge instructs the following:
The temperature is 95 degrees, and this Barre class is definitely Real Hot Yoga style! This 60 minute class is an all encompassing full body workout that combines elements of pilates, and yoga. Small weights, resistance bands, and stability balls may be used with isometric exercises designed to work your body from head to toe. Males and females alike will find this class to be fun, challenging and upbeat!




In this fun and unique class resistance bands or small weights in conjunction with small isometric moves are added to classic yoga postures to kick the toning aspect up a notch. This helps to tone some of the smaller, lesser used muscles helps to bring them into "action" to aid the larger muscles making all of your yoga poses even stronger to get the maximum benefits!

Add some core work and cardio to the mix and get ready to feel the burn! And because we like it hot, our 95 room ensures a great detoxifying sweat to make you feel great!




This is Baron Baptiste's signature "Journey Into Power" sequence. It's a fast paced, inspiring power flow which is suitable for all levels done in a 95 room.




Get the best of both worlds with this yoga-fitness hybrid. This class combines creative flows, HIIT (high intensity interval training) moves, and heavy beats all designed to get your heart pumping. End class with a deep stretch and relaxing cool down to give you presence of mind. And because we like it hot, class is heated to 99 degrees because well...99 problems but the heat ain't one.




This blend of Flow and Yin starts with power yoga to keep you strong and finishes with deep therapeutic stretching that will keep you injury free. The first half of class will be breath based vinyasa flow to build strength and flexibility, challenging your balance and concentration, and harnessing that energy to promote inner stillness and peace. The second half of class finds you on your mat holding yin poses for longer periods of time, targeting the connective tissues of the body to help release deeply stored tension. The 2 styles together are amazingly transformative! The room will be heated to 95 degrees.