Kristy Haynes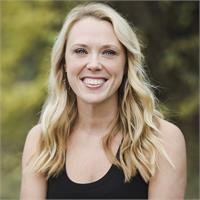 Kristy discovered yoga when she was sidelined by a running injury. Frustrated, she turned to yoga as a means of healing and because that was the only form of exercise she could do. She quickly became addicted, and now yoga is her favorite thing to do! Not only did yoga heal her injury, she found that yoga was an amazing workout, aiding in strength building and endurance. Yoga means so much to her, not only as a means to a great workout, but also as a way of connecting the mind and spirit. Kristy loves being challenged and encourages her students to be open to their unique possibilities!
Kristy Haynes instructs the following:
Adapted from Baron Baptiste's Journey Into Power sequence features in his book, it's a fast paced, inspiring power flow. While there are variations to accommodate different class lengths, the sequencing is very similar class to class allowing students to progress with each class. At Real Hot Yoga we add our own touch with some great tunes to keep you inspired... and of course the room is hot enough to work up a great sweat!




In this fun and unique class resistance bands or small weights in conjunction with small isometric moves are added to classic yoga postures to kick the toning aspect up a notch. This helps to tone some of the smaller, lesser used muscles helps to bring them into "action" to aid the larger muscles making all of your yoga poses even stronger to get the maximum benefits!

Add some core work and cardio to the mix and get ready to feel the burn! And because we like it hot, our 95 room ensures a great detoxifying sweat to make you feel great!