Christine Regan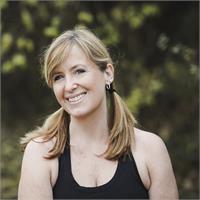 Christine Regan began practicing yoga in 2006 to help alleviate neck and back pain. She loves to try new styles of yoga everywhere she travels and considers herself a yoga nomad. She hopes to instill in her students a love for yoga and inspire them to grow into a deep sense of the mind, body, and spirit connection that makes this practice so unique and life transforming.
Christine Regan instructs the following:
This blend of Flow and Yin starts with power yoga to keep you strong and finishes with deep therapeutic stretching that will keep you injury free. The first half of class will be breath based vinyasa flow to build strength and flexibility, challenging your balance and concentration, and harnessing that energy to promote inner stillness and peace. The second half of class finds you on your mat holding yin poses for longer periods of time, targeting the connective tissues of the body to help release deeply stored tension. The 2 styles together are amazingly transformative! The room will be heated to 95 degrees.




Yin yoga works on a deeper level, getting into the joints and lengthening connective tissue (tendons and ligaments). Because the majority of yin yoga poses target the area between the knees and the waist it's a must for runners and athletes. This particular Yin class also holds the key to advancing in your yoga practice - or any other sport. There are 2 things that can either help you progress or give you a competitive edge, or, without can hinder you... flexibility in the hips and core strength. So in addition to therapeutic deep stretching, we've added in a few things to strengthen your core and get your heart rate up!

See what a difference Real Hot Yin yoga can make in the rest of your practice! In this class the intense heat (105) creates even deeper results. The quicker the muscles relax, the sooner you can get into the deeper work.
What poses do you find challenging? There's a yin pose to help!




Our most popular class in the Real Hot Series: This 75 minute class features 21 classic hatha yoga poses, performed in a set sequence* which is designed to work the body from from the inside out.

Systematically compressing and opening the body massages and stimulates organs to rid the body of toxins, aid in digestion, and rev the metabolism. The "side effect" is up to 600 calories per hour burned plus a complete toning of all major muscle groups!

The 105 room temp will help to further your detox with a good sweat! So dress or undress accordingly to our controlled heat – no long sleeves or long pants please! Remember to bring a BIG towel! Note: class levels for our Real Hot classes are set according to length of class not intensity or difficulty.

* While this is a set sequence it is not scripted so each instructor brings their own experience and expertise to your practice.