Hailey Eaton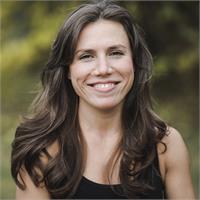 My best friend introduced me to yoga during college and I was immediately hooked. I knew I was hooked when I would get up at 6am to do yoga before having coffee! I love yoga not only for its awesome physical benefits, but also the impact it makes on my everyday life. Yoga helps me feel more connect to myself, others, and my environment. Once I made a comment to a regular practice, a beautiful shift started taking place. I look forward to continuing this yogi evolution of growth and LOVE! I have my Bachelors of Fine Arts and my Masters in Education. I am now going into my 4th year as an elementary school art teacher in Bristol, TN. In my spare time I enjoy running, gardening, cooking, photography, and any kind of outdoor activity. I live in Johnson City with my boyfriend, Ronny and our fur posse, Jack.
Hailey Eaton instructs the following:
In this fun and unique class resistance bands or small weights in conjunction with small isometric moves are added to classic yoga postures to kick the toning aspect up a notch. This helps to tone some of the smaller, lesser used muscles helps to bring them into "action" to aid the larger muscles making all of your yoga poses even stronger to get the maximum benefits!

Add some core work and cardio to the mix and get ready to feel the burn! And because we like it hot, our 95 room ensures a great detoxifying sweat to make you feel great!